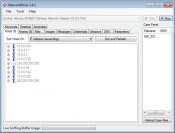 Want to know more about your network? With NetworkMiner, you'll be able to attain information about your network, such as connected users and hosts. The app also offers support for parsing and offline analysis of PCAP files.
Making sure you only have the users connected you know about will help you become much safer as you use your internet. It will help keep your data and information secure and protect your network from attacks.
If you want more control over your network, you might need a dedicated tool to help you do the job.
Passive Network Sniffer
With NetworkMiner, you'll be able to analyze your network in more detail and get reports about the hosts connected. In other words, it is designed to be used as a passive network sniffer as a packet-capturing tool.
It will detect operating systems, hostnames, sessions, and open ports, which will help you get some idea of how your network is currently doing. At the same time, it won't use any network traffic to capture this information.
Get Information About the Network Hosts
NetworkMiner is easy to use and install. Even if you don't have a great deal of computer knowledge, you'll be able to install it and start using it easily. You need to connect this application to your network card, and you can start getting the available reports with this tool.
First, you'll be able to see the number of hosts connected to your network. For each host connected, you'll be able to see details and information about them, such as their IP addresses, MAC addresses, hostname, operating systems used, TCP ports, and the TTL.
It will give you a pretty clear idea of what your hosts are and give you a chance to make sure there are no surprises.
The tool acts as a sniffer on your network without consuming your network at all. It helps you stay safe and make sure you have a clean network to work with.
Conclusion
NetworkMiner is Network Forensic Analysis Tool or NFAT that will help you monitor your network and get information about the hosts, which allows you to make sure it's as safe as possible.
NetworkMiner features and benefits:
Live sniffing
Parse PCAP files

OS Fingerprinting
0.581 MB/s PCAP parsing speed