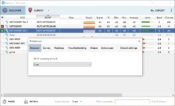 NetSpot is a powerful and intuitive application that will help you see, visualize, and analyze all the information connected to your wifi connection, giving you new pieces of information you can see.
It is a highly useful application if you're setting up your wireless network or want to improve its health and stability.
It will help you measure your network signal according to real-world measurements that you can enter into the application, giving you valuable insights into how your wifi network would look and work in your particular setting.
Create New Projects
With NetSpot, you'll have to ensure that you are precise when creating your projects. You will be able to analyze the info on your wireless system because, for the most part, the app will detect your connection automatically.
But if you want complete visualization, then you'll want to start new projects called surveys.
Within these surveys, you will analyze how your wireless networks work in your specific case. You'll be able to create spaces in your home just as they are in real life by creating maps so that you can see how far your wireless network would reach, what the signal strength would be, and much more.
Analyze Wifi Hotspots
An additional tool you'll be able to use is analyzing wireless hotspots and connections in your area. It will automatically detect any hotspots near your location, which will allow you to see all the relevant information about it: signal strength, band, channel, width, vendor, and the security of the network.
It can be extremely useful when you want to ensure that a particular network is safe.
Also, you can be sure that this application has enough power tools to help you use them fully, and it's also simple enough to use for everyday users.
Conclusion
Analyze wireless networks and create surveys with the help of NetSpot, which is a neat application for wireless network analysis.