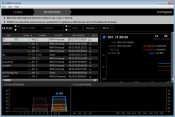 inSSIDer maps wireless hotspots and displays MAC addresses, the type of encryption used, channel and signal strength. Intended to be a troubleshooting tool for Wi-Fi users, this software is a good choice when you need to measure signal strength in various locations, thus providing an insight into the way household items interfere with wireless performance. Overlapping channels in crowded areas are also detected.
As it is a known fact that Wi-Fi connections sharing the same channel work slower than the IPS given speed, this tool comes in handy helping you choose the best channel for your Wi-Fi.
The program also informs users on the type of security settings in use, the RSSI and the time.
inSSIDer features and benefits:
measure wi-fi signal strength
choose a better channel for your wi-fi
make sure your wi-fi is secure
get visibility into your wi-fi environment