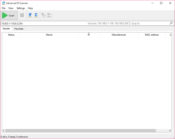 To manage remote workstations, the users require details like IP addresses and MAC addresses of the computers. Advanced IP Scanner is a scanner of IPs that is easy to use and fast, as it will allow you to display the information about the devices connected to your network.
If you're a manager or owner of a network, you know the importance of keeping tabs on all devices connected to the network.
You'll want to scan the network as often as possible to avoid any surprises but to do that, and you'll need a dedicated piece of software to help you with this important task.
Advanced IP Scanner is one of them. It is an intuitive IP Scanner that will help you display all of the key information about the devices connected to the network, such as the IP and MAC addresses, which gives you far more control over your network.
It is simple to use, even if you're not very experienced in this department.
Simple UI
It focuses on simplicity wherever it can do that. With this application, you will find the devices and computers connected to your network in a flash. In just a few seconds, all of the devices like computers and other devices will be displayed on your screen, and then you'll be able to see the information about them.
The nice thing about this application is that it's free to use, making it an accessible option for all users.
Get Information and Manage PCs Remotely
But that's not all when it comes to the functions that this application offers. You'll be able to get information like the IP and the MAC addresses of the devices connected, but it also has some other features like Wake-On-LAN or Shut Down commands that you can use to control a remote device.
The application also comes with support for various protocols like HTTP, HTTPS, and FTP. There are also file transfer capabilities and chat capabilities for those who need them.
Conclusion
Scan the devices connected to your network quickly and easily with Advanced IP Scanner, a simple and effective tool for retrieving information about them.