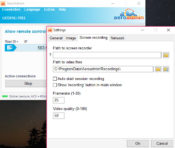 If you want your computer to be controlled remotely, then using this software is the right solution. You can control the computer at a different remote location via the internet.
Some of the basic features that you can expect through AeroAdmin are the establishment of the instant connection between the computers, the presence of rapid customer assistance, and secure file transfer by maintaining the remote connections. You don't even have to get your files transferred because you can access them directly on the computer that you wish to retrieve data from.
Interactive meetings, webinars, and online presentations can be easily managed through AeroAdmin. Such interaction allows higher collaboration between the parties. Additionally, it can also prove efficient for managing parental control or employee monitoring. You can also access the stolen PC as well.
AeroAdmin is helpful in saving your time and money by providing you remote access to different PCs. You can monitor, control, share and view the screens very quickly through this application.