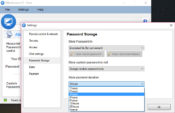 UltraViewer is an ideal software if you need a remote control for one or more computers. You can connect with a unique ID and password to support or control your devices. An excellent alternative for TeamViewer is software that works fast, and it's easy to use and user-friendly interface without many options or hidden buttons.
Connecting to a remote computer is a part of everyday work for many people. Some use it to support their customers, while others use it for work.
Sometimes, you might even use it to support your friends stuck with something on their computers. That's when you will use remote software.
One of those pieces of software is UltraViewer. It is an application that will allow you to connect to a remote computer using a unique ID number and a password.
It enables fast and secure connections that will allow you to control the remote computer and perform various tasks. It's easy to use and very professional, too.
Connect to Remote Computers
The main capability of UltraViewer is the ability to give you the power to control a remote computer. After a quick and painless installation, you can enter the app's main window. You'll see two different modes of usage with this app: you can connect to another computer or allow another user to connect to your computer.
If you choose to operate this application, you'll need to use a unique ID number and a password each user has.
A chat window allows you to communicate with the person you're working with easily. It's probably better to communicate with voice chat, as it will enable quicker and more effective use.
Manage the Remote Computer
You'll have full control over the remote computer when you connect to the remote computer. It means that you can do almost any task and select to hide the screen from the other person if you want.
Conclusion
UltraViewer is one of the best applications that will allow you to connect to remote computers.