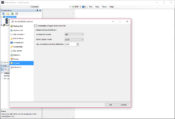 mRemoteNG is an ideal solution for the people who need to control always the connections from a distance. It is a tabbed, multi-protocol and remote connections manager that allows having many connections at the same time.
This is the most important advantage of this application, the possibility to have simultaneous connections to be controlled with few clicks. All the connections will be tabbed in that old and straightforward school interface with grey colors and intuitive buttons.
It is not a software for the people who don't have a minimum technical skills, because there are advanced options which can't have a sense for everyone. mRemoteNG supports many protocols like login, HTTP/https, telnet, SSH, ICA, VNC, RDP, Raw Socked Connections and more. Also, it supports different connections type at the same time. If you need to remotely control a desktop from your office, no problem, establish a new connection and do it.
About the interface, we can't say a lot of things. It's a pure gray and old-school window with few buttons and a lot of options. In the top side, we will find File, View, Tools and a section with Quick Connect, where we can add an IP or a web address.
In the left section, mRemoteNG has the connections sorted by types and folders. As I already said, with removing you can have many connections simultaneously. You can change the connection by pressing left click on the name. In the bottom left section, we have a configuration for a specified connection. We will find there the mane of the connection, the description, icon or type of it, the username and password if it's case. At the bottom of the window, we have two hidden sections, Errors&Infos, and Screenshots.
The primary display is on the center, a general section. In this dialog, we can read and input the information, codes, and others. When the connection was established, you can see all the details about it.
The tabs are in the top section, if you have two, three or more opened connections, change each one and remain where you need to make some modifications.