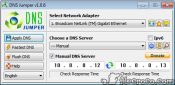 DNS Jumper is a helpful tool that allows users to change DNS settings automatically, which usually leads to increasing Internet browsing speed. Using this tool, users can improve their internet security by replacing the default DNS provided by their internet-providing company.
Nowadays, one of the priorities of users using the internet is to make their browsing experience as fast as possible.
One of the best ways to do that is to change DNS addresses and try new servers, which may come in handy when you want to test whether you can browse the internet even faster.
This application allows you to choose and change different DNS addresses quickly according to your preferences.
Find The Fastest DNS Provider
It will help you find the fastest DNS addresses and connect to them quickly so that you don't have to do that manually. It's quick and easy to use, even for beginners.
Moreover, this application helps users reach blocked websites and protects children from inappropriate content by blocking sites that can intellectually and emotionally harm them.
Portable and Easy To Use
DNS Jumper's advantage over similar apps is that it can be deployed instantly without hesitation. It's a fully portable application, so that you can deploy it anywhere. You can use it on your computer from the drive or use it on your USB drive and use it everywhere you go.
It also won't leave any traces in your Windows registry. The main purpose of this application is to help you load up webpages much faster than usual.
It doesn't increase download or upload speeds, but it does help with specific pages on the internet and certain downloads, and you can see a decent deal of difference when you use it.
Choose Different DNS Services
You can also choose between different DNS services when you use this tool. It will help you detect all the best servers you can use to connect to your web pages as quickly as possible.
However, suppose a user wants to restore the ISP Default DNS. In that case, it can be done through a simple command by clicking the Quick Configuration button, selecting Restore or Default, and approving the action by clicking Apply DNS button as he did before in the initial change.
Conclusion
DNS Jumper is a highly useful app for connecting to different DNS servers, allowing you to use the internet as fast as possible.