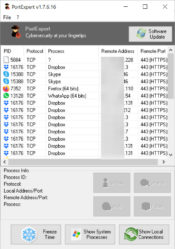 PortExpert is an application to help you identify which applications or programs are using the internet connection while running on your computer. It can provide a list of the applications and the processes that are running and require internet access.
Additionally, the IP addresses being used by the applications and each process would also be displayed.
The standard practice is that some applications can use internet access without bringing that to your notice explicitly. So, if you need to view the list of those processes, this application facilitates the process for you.
Some of the details regarding each application are connection protocol, ID number, local address, remote address, and port name. The application also provides filters to find the right kind of information without reviewing the extra information.
You can even have more details about a particular program through Google without involving any third-party applications. Additionally, remote and local address monitoring is also part of this application's features to the users.
Moreover, using a protocol for identifying a particular address, including FTP, TCP, HTTP, is also possible with this application's help.
Overall, PortExpert allows you to access the local and remote addresses and the other details of running and using the internet programs.