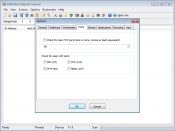 SoftPerfect Network Scanner is a multi-threaded IP, NetBIOS and SNMP scanner created for system administrators and general users that are very fond of internet security. The program can ping IPs, scan for listening TCP/ UDP ports and display resources shared over the network. In addition to this, it mounts shared folders as network drives and lets users browse them using Windows Explorer.
Shutdown and Wake-On-LAN are two options that pop into view from an impressive list of features: MAC identification across routers, hidden folder detection, third party applications, it retrieves information about the users and exports everything in XML, HTML, CSV or TXT.
The scanner comes only in a portable version.
SoftPerfect Network Scanner features and benefits:
Pings computers and displays those alive
Detects hardware MAC-addresses, even across routers

Detects hidden shared folders and writable ones
Detects your internal and external IP addresses
Scans for listening TCP ports, some UDP and SNMP services

Retrieves currently logged-on users, configured user accounts, uptime, etc
Mounts and explores network resources
Launches external third party applications
Exports results to HTML, XML, CSV and TXT

Supports Wake-On-LAN, remote shutdown and sending network messages
Retrieves any system information via WMI
Retrieves information from remote registry, file system and service manager