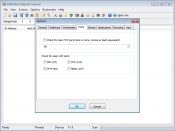 SoftPerfect Network Scanner is a reliable and safe network scanner that will enable you to provide a secure network environment by scanning IPs, SNMP, and NetBIOS.
If you're a network administrator, you know the importance of fully knowing your network. You need to be aware of all the things happening on your network. To do this, you'll need to constantly scan your network to ensure it's as safe as possible.
You'll need a dedicated piece of software like this network scanner to do that. It is one of the complete network scanners you'll find out there.
You'll be able to scan the LAN, scan for IPs, look for shared resources, and much more. It's the go-to tool for many network administrators.
Fast and User-Friendly
One of the main distinguishing features of this application is its clean and user-friendly interface. It has many different features and tools inside, so it might take you a couple of minutes to get up to speed.
But once you've done that, you'll be able to conduct scans quickly and efficiently and soon learn just how simple it is to use.
Advanced Scanning Features
SoftPerfect Network Scanner does a great job of bringing you some advanced scanning techniques. You'll first need to input a range of IPs you'll want to scan.
It will perform the scan, but not only that. You'll also be able to send messages and even initiate remote operations on these addresses, send wake-on LAN signals, start DHCP, and more.
At the same time, it will conserve the system resources so that it won't bother other processes on your computer too much. It's great to use both for short and long scans, and it also comes with a large library of configurations and settings that you can use.
Conclusion
If you want a complete network scanning tool, then the SoftPerfect Network Scanner is a great solution for your needs.
SoftPerfect Network Scanner features and benefits:
Pings computers and displays those alive
Detects hardware MAC-addresses, even across routers

Detects hidden shared folders and writable ones
Detects your internal and external IP addresses
Scans for listening TCP ports, some UDP and SNMP services

Retrieves currently logged-on users, configured user accounts, uptime, etc
Mounts and explores network resources
Launches external third party applications
Exports results to HTML, XML, CSV and TXT

Supports Wake-On-LAN, remote shutdown and sending network messages
Retrieves any system information via WMI
Retrieves information from remote registry, file system and service manager