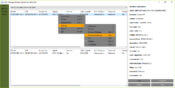 WiFi Manager will help you manage and edit your wireless network in your range, providing access to valuable information and the ability to connect to any access point easily and quickly.
With this application, you will better understand the wireless connections in your vicinity. It will show you a list of all the available connections in your location and the most important information about them.
It's a Windows application designed for users who want to view more network information and connect to them safely and easily.
Manage Wireless Networks
The main job of WiFi Manager is to give you the ability to manage your wireless connections from one place. When you first want to install this application on your computer, you'll notice that you'll need the .NET Framework along with the Visual C++ Redistributable. The installation is quick and painless for the most part.
You'll then notice that you'll enter the main window where the app will start to scan your networks in your vicinity.
Then, it will show you a list of all the networks close to you and all the crucial information you need to know about them.
You'll be able to see whether you can connect to it and much more.
View Network Info and Manage Them
Along with seeing if you can connect to the network, the app offers you much more than that. You'll see the network's signal, security status, authentication algorithm, number of BSSIDS, and other details.
However, you can connect to the network if you know the password.
With this app, you will never forget your passwords again. It has a database of passwords you can create to memorize your wireless connections' passwords.
There's also the ability to scan access points and connect to them.
Conclusion
WiFi Manager is a simple solution that will let you manage and view information about your wireless network.
WiFi Manager features and benefits: