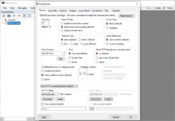 WinSSHTerm helps you manage multiple SSH sessions simultaneously as it acts as the simple-to-use GUI for PuTTY or KiTTY, and it also features some additional functions such as file transfers and X applications.
If you're someone who needs to connect to remote computers daily, you need to use an SSH client to do that. And PuTTY and KiTTY are two of the most widely used and most powerful SSH clients that will help you connect to a remote PC.
Although the main issue is that they're not user-friendly and they don't offer you the chance to manage multiple sessions, they have some nice features.
With WinSSHTerm, you'll be able to resolve the biggest issues of those two platforms. It's a lightweight program that brings some simplicity to you when you decide to use PuTTY and KiTTY.
It acts as the interface for these two SSH clients to open multiple sessions simultaneously and manage them from an intuitive GUI that will make life easier for you.
Easy to Install and Use
It acts as the frontend application for PuTTY and KiTTY, and it requires installation before you can start using it. Before installing it, you'll have to make sure that those two frameworks are ready to be used.
However, the great thing about this utility is that it will also automatically download them if you haven't installed them yet.
This app has a minimalistic UI. It's made for more beginner-focused users that want to get as much stuff done as possible. There's a small degree of customization when it comes to the interface, too.
Aside from installing PuTTY and KiTTY, you'll also have the option to automatically install WinSCP and X-Server, making things much easier as you start using the tool.
Additional Features for Improved Experience
As already mentioned, the two frameworks for remote connections do lack some important features. One of them is multiple session management and the ability to connect to multiple computers simultaneously.
With WinSSHTerm, you'll be able to navigate between different sessions with just a click of a button – or the set shortcuts that you can define before you start using the tool.
You can also open multiple sessions in a single window. It makes it easier to monitor the session from just one screen, although it's not the best feature if you have a small screen.
It will help you manage the sessions better and open multiple sessions so that you're able to manage them simultaneously and get more stuff done in the same amount of time as before.
Conclusion
WinSSHTerm is an application that will provide you with the interface for PuTTY and KiTTY, as it will help you simplify the process and make your life easier.
You'll also be able to connect to multiple computers at the same time and manage those sessions easier. It's a great application to have if you need to use PuTTY and KiTTY often.