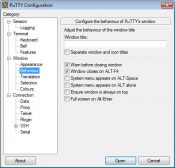 PuTTY is a client for SSH, Telnet, and Rlogin that will act as a terminal emulator while also providing you with an environment to work in if you're an advanced user.
If you work with SSH or Telnet regularly, then you have almost certainly already heard about PuTTY. It's certainly one of the big names in this category, as it acts as a client for the given protocols.
It allows users to connect through rlogin or TCP protocols.
Comprehensive and Advanced Tool
When you work with it, you have to know that this is a more advanced piece of software meant for users with a bit more experience in this field. When you first launch this tool, you'll be able to access all of the configurations and additional settings.
One of the more notable settings in this regard is the ability to change the type of connections you make.
The main types of clients, or rather connections that you can use, include Raw, Telnet, SSH, Rlogin, Serial, etc. You'll also be able to set up login credentials and additional materials that you'll need to use.
Set Up the Terminal
The terminal section is where it's at when it comes to PuTTY. It is here where you'll be doing most of the work inside this application.
Here, you will set up controls like line discipline, remote-controlled printing, keyboard actions, alarms, and other advanced features of the terminal. You can also tweak the appearance and the behavior of the interface here.
When you start the connection, you'll see that you'll be able to use the controls of the remote system within seconds.
It allows for fast and accurate switches between machines thanks to its syncing capability and the ability to remember all the correct settings for a particular device. It makes working with this tool a breeze.
Conclusion
PuTTY is one of the most popular SSH, Telnet, Rlogin, or Raw clients that enables you to use advanced tools inside to make changes to a remote system.