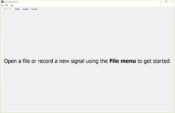 Universal Radio Hacker allows you to easily analyze unknown wireless protocols of IoT devices, providing you with widespread support for SDRs for easy use.
The app aims to provide you with an interface for investigating unknown wireless protocols, which can be useful for analyzing IoT devices.
It comes with a useful guideline that enables you to learn how to use the app and advanced tools for wireless protocol analysis.
Interface Between You and Your SDR
The simplest way to describe this application is its interface between the end-user and their SDR. So for this app to work as intended, you'll also need an SDR. You might need to spend some time tweaking the app's settings to get the app up and running.
To do that, you'll probably find the user guide and manual useful since this might not be the most beginner-friendly app in the world.
It's also worth checking out the Youtube channel of this app and other supporting materials.
Supports Different SDRs
You'll be pleased to know that the application will enable you to support different types of SDRs. These include HackRF One or SDRPlay RSP2pro. It's also good at reverse engineering wireless protocols, which you might need during your work with this app. Again, this enables you to work with a wide variety of signals.
However, one of the more important facts about Universal Radio Hacker is its neat advanced features built into its interface.
It's quite good at sniffing, recording, and analyzing wireless protocols, which it does with its more complex tools. In addition, these tools are also not that difficult to use once you get acquainted fully with how the app works.
Conclusion
Universal Radio Hacker is an advanced utility tool that analyzes unknown wireless protocols. It's great for more advanced users, but luckily, it's also quite easy to learn as it has many supporting materials.