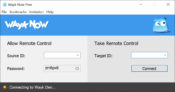 Wayk Now is a solution that helps you access remote computers in a controlled environment where you can manage the resources that can be accessed. The application allows you to transfer files efficiently, including files from the clipboard, like, for example, a screenshot. Also, the chat solution will enable discussions with the accessed computer user if further details are required.
The connection between the two computers is secured using TLS 1.2 encryption and certificate validation. Also, the application automatically generates a complex password for the connection. Its icon shows up in the notification area during its operation to be aware that somebody else is accessing your PC.
In the options section, you can configure several aspects such as password policy, default access levels, the video quality of the connection, and startup preferences.
Wayk Now is a powerful and handy solution to help your friends or family use their computer without having to go around the place.