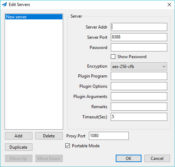 Browse the internet safely and securely, thanks to Shadowsocsk. This application will help you connect to the internet using proxy websites with a high level of encryption algorithms enabling you to stay safe and protected online.
The main role of firewalls is to protect the internal network structures from the external threats found on the internet. But the layer protocols have gotten more and more advanced in the last few years, which has led to the need for more advanced safety protocols for firewalls.
And with Shadowsocks, you can protect yourself via proxy servers.
Establish a TCP Connection to a Proxy Server
This app's main premise is that it acts as a socks5 proxy, enabling you to stay safe when you use the internet. It will help you establish a TCP connection to a random IP address, making it safe and easy for your computer to submit UDP packets.
The best thing about this approach is that your traffic online stays completely safe and hidden from anybody trying to access it from outside.
The main advantage of using this utility over other similar services or firewalls is that this one comes with an encrypted protocol that's a bit easier to use, but it's also quite significantly safer.
When you establish a connection to the proxy server, you can browse the internet safely and securely without risking your identity or traffic.
Hide Your IP
For many reasons, you might want to hide your IP address when you browse online. Perhaps you're worried about the many hacker attacks when you download files.
Or you're maybe worried that your internet connection might be in jeopardy when using questionable sites. Or perhaps you don't want your data to be shared.
Whatever the reason, using this tool can come in very handy. It's also quite easy to use. The tool will connect to a proxy server automatically.
Conclusion
Shadowsocks is an easy-to-use proxy tool that helps you connect to a proxy server when you want to safely and securely browse the internet.