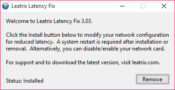 Are you experiencing some latency on your computer? Then you can use Leatrix Latency Fix, an application that will help you significantly reduce the latency you experience when you play computer games.
Latency is one of the main issues gamers experience when they play online games. It means that the game will not be in sync with what's happening inside the game because the internet connection struggles to keep up with the game's demands.
It cannot be very pleasant, especially if you're playing a fast-paced game where you must make quick decisions.
With Leatrix Latency Fix, you can fix much of your latency easily and quickly. This software will help your connection find better gateways to connect to, thus improving the connections' leaks to bring a smoother gaming experience.
It's useful mainly for gamers who like to play online games.
Quick Set-Up and Ease of Use
Before you get going, you need to ensure you have admin rights for this application because it will ask you for them as it needs to make changes to your connection. Before you launch it, though, you might need to reboot your PC and disable your network card.
All the instructions should be provided within the interface as you install it.
Then, the app will automatically try to fix the lag you experience in games. You will need to launch your favorite game and this app to see any positive changes.
There should be notable differences almost instantly.
Increases the Frequency of TCP Acknowledgments
When you play online games, they will use TCP protocols to connect to the game. These connections will massively depend on your connection's speed and quality.
Leatrix improves the quality of your connection by removing the acknowledgment bundling process, typically done as you try to connect.
Conclusion
Leatrix Latency Fix is an intuitive application that will help you remove the lag you experience when you play online. It's highly effective, so try it to fix your latency problems now.