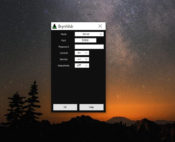 Brynhildr is a simple yet effective piece of software. It lets users connect to a server remotely. This way, you can transfer files with ease.
You can also get access to additional computers on your network. It emulates the experience of being right in front of that computer.
Because it uses a client-server architecture, it is useful if you need to troubleshoot a problem or configure settings.
Server Configuration
We could configure servers with just a few clicks and let the app detect the IP address automatically.
It means you can still set your port number and assign a password for security. It prevents unwanted intruders from getting in on your connection.
Remote Desktop
You can fully view and interact with a remote desktop. Brynhildr lets you adjust the video and choose a codec if you enter the IP address and port number. In addition, you can turn off sound or audio.
Controlling Access Rights
You can get full access using the server. If you need to launch applications, nothing is stopping you. It's just like you had your actual computer right there.
You can monitor the target desktop to ensure processes and functions are running as they should.
Some similar applications don't allow you to get the full functionality and access you need, giving this one advantage.
A Useful Remote Tool
Ultimately, Brynhildr is a useful tool for technology experts. You need to know a little bit about networking and IP configuration. Once you understand this, it allows you to act like you have two desktops at your fingertips.
Sometimes, you might need to help a client resolve a security concern or troubleshoot their applications. It enables this without the need to be there physically.
Overall, we think this is a useful tool that doesn't require too much bandwidth to implement.