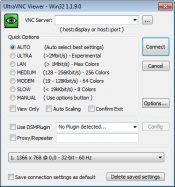 UltraVNC is a remote control application that allows you to connect to a remote computer and control them with your keyboard and mouse as if you were sitting in front of that computer.
Remotely controlling another computer is an important task for many people. Some people do that for their job, as they need to support their customers.
Sometimes, it might be for showing someone how to do something or doing a task remotely from your home computer on a work computer, for instance.
It is a popular application for connecting to another computer remotely, giving you access to the remote computer.
It allows you to control the remote computer as if you were sitting right in front of it, which is great if you need to have control over the computer.
Remote Connections Made Simple
When you want to use UltraVNC on your computer and another computer, you'll need to set up the application and create a connection with a remote computer. You will also need to install the application on the target computer if you want to control the computer remotely.
After that, you are establishing a connection should be quite simple. You'll need to set up two passwords to access the computer in question fully.
You can also decide which mode to view the remote computer– full control or observe the only mode. It will depend on what you need here.
Works Smoothly
We've tested the application ourselves, and during the tests, we've found that when set up correctly, it works smoothly.
The connections are quite fast, and you'll see that there will be minimal lag when you work remotely on another computer, which is quite important for a better flow of work.
This remote desktop software integrates a video driver and multiple monitors to support server-side scaling, auto reconnection, and Java viewer.
Conclusion
UltraVNC is a popular app that enables you to control another computer remotely with ease.
UltraVNC features and benefits:
Compatible with RealVNC, TightVNC and most other flavors of VNC

Encryption plugins allow for secure connections
File Transfer functions

Quick Chat features