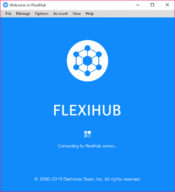 FlexiHub has been designed to provide remote access to devices connected over the network. It can establish connections between devices present anywhere in the world.
There is no specific range of parameters in which this application works, so connecting with remote devices worldwide is possible.
When you have several USB devices connected to your local area network, you probably wonder if you can access them all. It turns out you can't unless you have the right tools for the job.
FlexiHub is an application that will enable you to access USB drives remotely. It has a relatively simple interface will make it easy for you to connect to these drives and easily change them.
You can also connect to USB drives in your local area network, but you'll also have the chance to connect to USB drives in other networks.
Simple to Use
One of the best things about FlexiHub is its easy use. It has a simple interface allows you to access the USB drives you want to see and edit.
Moreover, you can connect to almost any USB device you want. However, you must make an account before fully using this application.
Share USB Devices and Hard Drives
The primary feature that most users will like about this application is that it enables you to share your USB drive with others and access other USB drives in your local network or different networks. It means taking full control over the drive, including deleting files from it, adding new files, or even making large-scale changes to the USB drive.
The application should recognize the USB drives automatically for you, so you'll not have to do too much to get started. You'll see which drives are ready for sharing, which enables you to get started quickly.
Conclusion
To conclude, FlexiHub is an application that ensures you can create a private network and securely share data between hardware devices securely and efficiently.