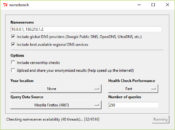 Namebench provides a powerful DNS benchmarking solution that's incredibly easy to deploy, as you don't have to install it, and it comes with some powerful tools.
If you want to test various DNS connections, you will need a good piece of software to do that. With Namebench, you'll be able to perform benchmarks for DNS addresses you want to connect to in just a few seconds.
You don't need to install the application, and you only need to extract the package to start using the app.
Simple Application with Easy Deployment
It's a highly portable application you can use almost everywhere you go. Extract the package from the download file and start using it by launching the executable file.
From there, you need to select the DNS address you want to scan, and the tool will do the work for you.
Plain Interface that Gets the Job Done
Once inside this application, you'll notice that the main interface is somewhat simplistic, too. It only has the main tools you need for the job, so you can specify global DNS providers or scan local DNS addresses that the app can find.
With the tool, you can perform all sorts of checks on the DNS addresses. With the main features such as speeds and performance, you can scan for censorship, several queries, and other information about DNS results.
Find the Fastest DNS
The scans will take some time, but your computer will not notice it working. During the scans, it will use as few resources as possible. At the same time, it will create no additional registries, which leaves your HDD clean after use. It works smoothly and quickly, so almost everyone will profit from using it.
All of the performance results will depend on the DNS servers you are using, and you will see that these results will be shown in a tabular and graphic format. You will manage to read this format with ease and figure out what is the best connection for you.
It will also recommend a primary, secondary, and even tertiary DNS server to choose from to see which link will be better for you to have the fastest Internet connection.
Conclusion
Namebench is a tool that helps you scan and retrieve information about DNS addresses. It's a simple app that you can deploy in seconds, so its use is simple and effective.