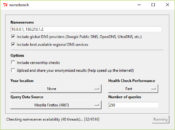 Namebench can be used to find the fastest DNS server for your internet connection. This tool is a cross-platform solution which helps all the users to benchmark their Internet connection and the best part about this tool is the fact that it is very easy to use. It will use the browser's history and attempt different connections across the globe with ease.
DNS is responsible for converting human-readable URLs in numeric IP addresses which the servers will understand. Some public DNS servers are speedy, but some of them lack this speed, and you sometimes find yourself in a situation in which your internet connection will cause you a lot of problems.
Namebench will figure out the optimum DNS and also the fastest server available for you and access it so you will manage to take advantage of a faster Internet connection. You will have to wait until the testing time finishes. It will take up to 15 minutes, and it will depend on your internet connection how long this test will take.
All of the performance results will depend on your DNS servers that you are using, and you will see that these results are going to be shown in a tabular and graphic format. You will manage to read this format with ease and figure out what is the best connection for you. It will also recommend you a primary, secondary and even tertiary DNS server to choose from to see which link will be better for you so you will have the fastest Internet you will like.