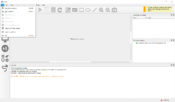 GNS3 allows you to manage connections between the routers, switches, and firewalls without risking the entire equipment breakdown. Some routers compatible with this application include Cisco CCNA, CCNP, CCIP, CCSP, CCVP and CCIE, Juniper JNCIA, JNCIS, and JNCIE.
You'll be able to set up advanced and deep networks easily without using expensive hardware, as it is a network topology simulator application that you can rely on.
Installation Tutorial
Create Topologies of Networks
Before you start using the application, you'll need to install it and select your preferred type of router. As you can see above, you'll be able to choose from a list of many different router types. From there, you'll be able to set up a new project quickly.
Once you've done that, you'll have a drag-and-drop interface.
With this interface, you can build your network and test it. You'll be able to add devices you want to have in the network. And if something doesn't work as it should, the app will warn you.
This way, you'll know exactly what works and doesn't, allowing you to set up a sound and safe network environment before you try it on the real hardware.
Note that you can also adjust the attributes of each specific part of the network. It will give you the ability to go into detail if you want. You can set it up just exactly as you would in real life.
Conclusion
GNS3 is an application that will help you create topologies of networks to test them.