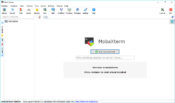 The MobaXterm app allows you to manage several computers connected to the same network. It is sometimes a very complicated task since every computer has unique tasks.
And these tasks need to be monitored non-stop, so you will likely need remote access to the computers at all times.
You can stay much more productive with an app like this since you can access all computers from one place. This app will provide you with the capabilities you'll need to manage your remote computers easily and effectively.
Advanced Features and Functions
An important feature of this app is its several advanced functionalities that will give you complete control over your remote computers.
Most of these features are very intuitive for programmers as well as for web designers who are looking to gain control over the remote computers in their network.
One of the best things about this app is its neatly organized interface. The tabbed interface allows you to manage and control your tasks simultaneously.
At the same time, you'll be able to control several remote computers.
Different Types of Sessions
With this application, you'll be able to create different types of sessions. It includes SSH, Telnet, RDP, VNC, FTP, SFTP, Rlogin, XDMCP, and Serial Connections.
You can also run Unix commands through this platform, a more advanced feature of such apps. You can view images, write code or text, perform various file options, or more – this application will help you cover it all.
Conclusion
MobaXterm is a great application that allows you to control various remote computers easily. It has several advanced functions that will give you complete computer control.
Perform various tasks remotely with this advanced platform to help more advanced users access multiple computers from anywhere in the world.