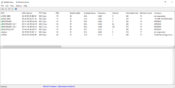 With WifiInfoView, you can see and display all of the information about a wifi network, including its MAC addresses, signal quality, and much more.
WifiInfoView is a free-to-use application that will help you scan wifi networks and ensure they work as quickly as possible.
You'll be able to monitor the networks in detail, enabling you to display advanced data about them.
It's also easy to use, with many useful features that simplify your life.
Simple Application That Beginners Can Use
When you first open the app, you'll see it has a relatively simple design. The main panel, or the main window as you open it up, has two different panels.
In the upper panel, you can see all the wifi connections or networks you scanned.  In the lower portion, you'll see detailed information about each network.
It's simple to use, as it only prompts you to select the wifi network you want to scan. It's a worthy app to consider if you need information about the wifi.
However, it doesn't come with the professional information that might suit professionals in this field.
See Details About Wifi Networks
The application mainly aims to give you complete and advanced wifi connections and network reports. To start the scan, select the wifi network, and the information will appear at the bottom.
In this part, you'll see information like MAC address, signal quality, frequency, BSS type, router model, name, and channel numbers.
And if you want to see a summary of all the scans, you can do that, too. You can see all of the connections that you have in a single grouped channel.
You may also change the MAC address of a network, as well as generate HTML reports. It's a great and simple tool to use.
Conclusion
WifiInfoView allows you to scan and manage your wifi networks. It's a simple tool with all the basic features that can easily scan a wifi network.