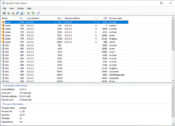 Opened Ports Viewer is a networking utility that can provide you with all the open ports available in your network. It is a portable application that does not require any installation.
Additionally, you can keep it with you on a USB or hard drive so that it can be used anywhere you like. Moreover, you don't have to expect any new entries in your registry files, so you can consider it safe.
A clear and organized list of all the open ports, along with the details, is provided to the users. Local and remote addresses, protocol, and status are included in some of the simple dimensions addressed in your information details.
The interface is intuitive and provides an easy-to-use process for running this application.
You can select a particular item from the list and know its connection status and the module notes. The best part is that you can export these notes in different formats, thus making the entire process of managing a lot easier than it would have been otherwise.
There are some other tools available in the application. You can resolve the hostname issues through these tools, hide the processes running in the system, port names, etc.
Opened Ports Viewer is an application that lists all the available network ports along with the essential details.