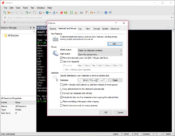 Xshell allows you to connect to almost any remote workstation by giving you a platform to become an emulator for SSH, Telnet, and RLOGIN, which will enable you to perform various maintenance operations.
Working remotely requires you to have the right tools for the job. And one of the best ones is Xshell, which is especially great for maintenance operations.
It's an emulation program that's multilingual and supports various protocols, such as SSH, SFTP, TELNET, RLOGIN, and SERIAL. It comes with a command-line where you can gain access to your Linux or Windows PC remotely.
Standard Shell Appearance
The appearance of the application is nothing special. It comes with a shell-like appearance that will work very well with most other Windows applications and services. It has many great features for controlling your remote computer, such as file management, tunneling, and several others. These are just some of the main advantages it offers.
When you first want to connect to a remote computer, you will need to select the session you wish to connect to.
Alternatively, you can create a new one from scratch if you don't have an existing one. In that case, you'll be able to use the variety of options you'll have at your disposal for connecting. You can also use the default session that's created by Xshell by default.
Emulate Terminal Types
When you connect, you can select some preferences and change them. You'll be able to send "keep-alive" messages to keep connections active. You might also use ZLIB compression to enhance the performance of a slow connection.
At the same time, it is capable of emulating a wide variety of terminal types. It includes terminals like VT100, VT220, VT320, XTERM, LINUX, SCOANSI, and ANSI. All of these terminals can also be modified to suit your preferences.
You can set up used strings or send a string text to the remote computer.
Conclusion
Xshell is a powerful emulation program that will enable you to connect to workstations remotely and emulate different terminal types.