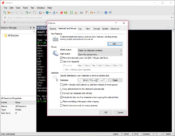 The unsecured TELNET clients can be easily replaced through Xshell. Apart from TELNET, other protocols such as SSH, SFTP, SERIAL, and RLOGIN can also be managed through this exceptional software.
Moreover, you can expect a high level of security associated with this app as it works with SSH1/SSH2 protocol, encryption of traffic, password protection and effective user authentication methods. All these features make it possible for the users to protect their data and reduce the chances of data interception by unauthorized third parties.
Additionally, its interface is equipped with multi tabs, so you can smoothly run more than one session at a time. You can also create and activate scripts for repetitive tasking, making the entire work more productive and efficient. You can even manage remote tasks efficiently because of X11 and Dynamic port monitoring.
In short, Xshell is a terminal emulation utility that can guarantee security and reliability in your connections. Additionally, it supports multi-sessions and automated repetitive tasking.