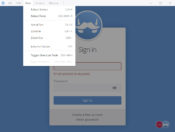 Franz is one of the unique applications that help you to combine the chatting and messaging features of the other applications in a single one. You can expect to incorporate many platforms that exist for messaging into a single interface. Some of the prominent messaging applications that are supported by Franz include WhatsApp, WeChat, Hangouts, Facebook Messenger, GroupMe, Skype, and Telegram. Apart from these prominent applications, a few other ones are also supported by Franz.
It does not only support the different application accounts into a single interface; rather the different accounts with the same application can be integrated with the application. As an example, five different accounts of Facebook messenger can be added.
You do not have to expect any sort of intervention between the messaging application and the user. So, your data is not exposed to any additional risk by using this application.
Franz provides you with a one-stop solution to ensure that you never miss a notification from your contact list.