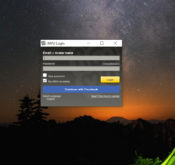 IMVU is a popular communication application that's accessible to a variety of users. It helps you create effective and affordable communication and craft your own 3D animated characters to make things fun.
Nowadays, many communication managers and applications will help you communicate with friends or associates. It might be hard to stand out in the crowd of these messengers, especially when the competition is so stiff. But this application does a very good job at this.
IMVU is a personalized messenger that enables you to communicate online with friends and colleagues in a more personalized and interesting manner.
It takes chatting to a whole different level with its 3D animations. You can create ease of use, which puts it near the top of messengers.
Create Your Avatar and Chat
When you start using IMVU, you'll notice that it's not that different from the rest of the messengers at first glance. You'll first need an account to start using this application, although you can also use a third-party account to sign in – you can use your Facebook account, Google account, or even Yahoo account if you have one.
Then, when you log in, you'll see that this messenger is easy to use yet very different from anything you've ever used. First, you'll have to create your 3D avatar, which adds some fun to everything.
You can choose customization options from here, as you can select your clothing, pick your make-up, and add accessories.
Connect With People from Anywhere
The best thing about this app is that it's accessible to everyone, so it doesn't matter if you're a beginner or someone who's been using messengers like this one for years. You can communicate with anyone from anywhere, regardless of age, skill level, or location.
You can create and enter chatrooms, a 3D room where each character is placed in various locations. It makes a feel just like you're there, ensuring you're immersed in the experience from minute one.
Conclusion
Download IMVU now to experience a different type of messenger.