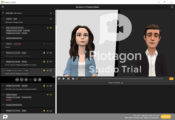 Plotagon is a valuable application for turning text into videos and conveying your ideas differently rather than just with your words. This way, you'll be able to better convey your values in a way that resonates with your audience.
It is a relatively simple application once you get used to it. It will help you transform your text content into video content. You don't need too much experience to get going and to change your ideas into visual content.
It's great for creating scenarios and demonstrations with videos instead of just text.
Create Videos that Stand Out
Creating videos is one of the primary ways you can use this app. You can make your videos stand out quite well thanks to the 3D animation app inside Plotagon.
It has some original 3D scenes that help you create unique videos. There are also some 3D characters and plotting abilities that you can use to create amazing and unique videos.
There will be more than 200 options and pre-made scenes that you can use, including various settings such as offices, hospitals, schools, restaurants, and others.
And with the point-and-click interface, you can easily combine various elements such as faces, hair, skin, and other details.
Easy to Use
Even if you don't have that much experience with creating these videos, you'll be able to do so easily with this app. Thanks to the drag-and-drop interface, using this tool is incredibly easy.
You can build an entire animation using just this tool, which is great when you want to use pre-made tools and scenes available with this animation.
You can also add background images and sound effects that let you configure the videos you make with this tool. If you want, you can go very deep with this and create unique videos.
Conclusion
Plotagon is an intuitive application that helps you turn your ideas and text into powerful videos that are easy to make. You can easily use it even if you're a beginner.