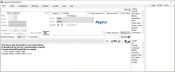 Hybrid represents a single complete package enabling you to convert and edit your videos, and you can also perform various functions with the app.
You can transform videos into different media formats and make several changes to the videos, such as tagging, muxing operations, and other common tasks.
A Wide Variety of Supported Formats
One of the best things about this utility is the number of media formats it supports. It will support all of the most popular video formats but also some less convenient and popular formats. These include VC-1 and AVC raw formats, formats that can be decoded with FFmpeg and MPlayer, and other formats like x264, Xvid, VP8, x265, ProRes, and others.
In addition to supporting the various formats, the application is more than capable of handling multiple encoding modes. You can easily set up specific parameters for each encoding mode, such as the bitrate, the constant rate factors, etc.
It makes it compatible with various containers such as Blu-ray discs and AVCHD.
Audio extraction is also possible with this app. It can generate formats like MP3, OCG, AAC, FLAC, AC3, DTS, etc. But not just any extraction – it will support the most popular and less popular audio modes.
Advanced Configuration Modes
For more advanced users, Hybrid also has a lot to offer. As we've already mentioned, you can easily modify and alter the encoding mode, where you can adjust the bitrate, set the tune, and the entropy coding mode. You can also resize loaded images, change the aspect ratios, crop images, and make other images.
In addition to all of these editing options, you'll also have several other functions when it comes to filtering. You can enhance and alter your files before encoding using filtering options. You can also use deinterlacing, telecine, color adjusting, etc.
These functions allow you to make easy but effective alterations to your images that can make a lasting and profound impact.
Add Subtitles and Tags
Another useful feature of the app is adding subtitles and tags to the videos. Plus, you can make changes to the structure of the video with the help of the chapter editor.
You can automate tasks that previously all had to be done manually.
Conclusion
To conclude, Hybrid is an impressive application with a huge array of video editing and encoding functions. You can make small changes with the app, or if you're a more advanced editor, you can make large-scale changes with the app. It is great for beginners and advanced users, although more advanced users will probably find the app more useful than pure editing beginners.
Hybrid is a complete package for helping you edit, convert, and arrange your video content into various media formats.