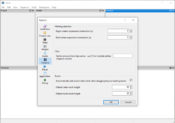 It is an application to create videos from personal photos, images, audio and video files. Moreover, audio, video, and images are all supported by Vidiot to provide you with the best possible content for your needs.
The usage requires a bit of understanding and practice. Despite the clean looking interface of the application, you'll need to put in some effort to learn how the application works and what features does it has.
The built-in media present in the application allows you to preview the video clips and make adjustments directly on the timeline. You can transition effects between different clips. Fade in and fade out are amongst the most prominent ones.
Moreover, the app supports the separate audio and video streams for editing. Such a feature allows you to adjust the level of sound, manage the opacity of the video. Rotation, scaling and modification of the position of the image are also amongst the features of the application.
You can create backup files of the saved files in this evideo editor. It is helpful if you plan to overwrite one or more of the files. So even in case you are not able to make the right changes in the fie, you can recover it back in the older version.
Vidiot is an application to edit your videos. The incorporation of video, audio and images is possible through it.