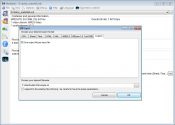 MediaInfo provides information on every piece of media you have on the computer. Whereas it doesn't include any converter or ripper features, it does perform an in-depth analysis of all the parameters that define a media file.
This software's unified user interface brings together information about the container, its name, the associated tags, the bit rate, the video, audio, and text format, and everything on chapters and subtitles.
The list carries on with several other less common parameters. All these are fully customizable in order and placed on the screen.
The entire app gets integrated into the shell from the start, and the obtained info can be exported as text in several formats.