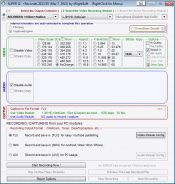 SUPER is a free video converter, encoder and player that simplifies the task of handling video files to the max. Actually, whether you need to record something from an external device or just trans-code the video files you have into a different format in order to save space or make them compatible with a specific player, this software knows it all.
As the number of supported formats is so large, we will resume ourselves at informing you about the possibility to encode videos for portable devices such as iPhone, Android or PSP.
While the user interface is rather intimidating, more advanced users will find this app almost complete when it comes to video handling.