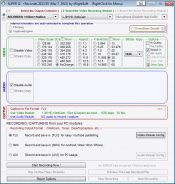 SUPER is an intuitive and powerful encoding tool that supports various audio and video formats, including 3GP, AVI, AC3, MP3, and others.
If you're looking for an intuitive application that will serve you as an encoding tool and multimedia player, you should look no further.
This program is designed to help you easily encode different video files into other formats. It's a versatile app that you can use to convert files and play them.
Supports Various File Formats
Granted, the support for file formats inside SUPER is not the widest globally, but you'll certainly find the most widely used formats.
Among the support formats, you'll find 3GP, AVI, MOV, and WMV, and it will also work with AC3, MP3, and OGG.
You'll see some variety to be found here, allowing you to work with several types of multimedia.
Output Configuration and Encoding
It comes with a neat window where you'll be able to define what output setting you will have when working with this tool.
When working with video files, you can configure settings for the output, such as size, FPS, bitrate, sampling rate, number of channels, and audio bitrate.
What is more, you'll be able to batch-process and convert files as well, giving you the convenience of use when you'll want to have the ability to convert several files simultaneously.
Interface Focused on Functionality
We should mention that SUPER is not the best-looking application globally, but the truth is that the interface focuses on functionality rather than looks.
You'll find this beneficial when working with files and converting them because this is one of the better encoding applications you can use in terms of performance.
Conclusion
To conclude, SUPER is an encoding application with various encoding and conversion settings. It will help you convert files into various formats and allow you to work with different formats, too.