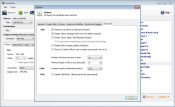 HandBrake is a comprehensive video-converting tool that will offer you the capability to convert video files into other formats with ease.
The modern age of video files and their formats is truly developing fascinatingly. Today, more than ever, there is a need to find the right formats for video files, and there are many different formats on the market.
Gone are when you could place a file on your SD card and access it on any device.
Today, it is necessary that you do some form of converting the files into different formats if you have a variety of video files.
One of the tools you could use for that task is HandBrake, designed to help you transform your files from one format to another. It is especially useful for video files.
Convert Single or Multiple Files
HandBrake comes with a tab-like interface where you can access all of the main window's features through tabs.
When you select the files, you want to work with. The application will automatically scan your system to find the files of the supported formats within this application.
To start with the conversion, you first must select a file or several files. We should note that you'll be able to convert several files simultaneously or just one.
After that, you'll be able to set several conversion parameters, such as the end file format and other additional settings. After that, the conversion process can begin.
Quick and Painless
If you don't want to go through a lengthy process of setting everything up yourself, you can use one of the presets to get started.
This way, you'll get the conversion started quickly and easily without setting up several parameters before starting.
Conclusion
HandBrake has a nice suite of features for converting files into other video formats.
HandBrake features and benefits:
built-in preset configurations for dedicated devices
multiple output formats
set markers for chapters
encoding at the constant quality or average bitrate

subtitles support