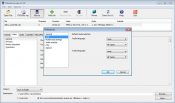 XMedia Recode took all known video and audio formats and evolved as a tool to convert one into another without problems. From MP4, MKV, and WMV to DVDs and Blu-Rays, over 30 video and audio formats are supported. And the great thing is that the encoding process goes extremely fast, even on entry-level computers.
When working with multimedia files, one of the main issues many users encounter is the inability to convert their files into other formats.
For many users, that will be one of the most important tasks they'll ever do because it will enable them to work with many different files simultaneously and use them for various means.
To help you convert your files into other formats, you can use XMedia Recode. This app has been designed to help provide you with a complete solution for converting your video files and other files into different formats.
It supports a wide variety of formats, and it's easy to use.
Easy to Work With
XMedia Recode has an intuitive interface that enables a good workflow. From the first time you use this app, most of the things inside will be clear, even if you're a beginner.
You'll see that most of the main tools are laid out nicely into a tabbed interface where you can get started immediately in the main window.
Supports Many Formats
One of the main advantages is that it will help you work with various formats. It supports all of the main formats and some of the lesser-known formats, which can help you input and output different formats.
Of course, converting your files into other formats will be one of the main tasks inside this app.
However, it will also support you with other tasks you might want to complete. For example, it lets you add subtitles to files, adjust complex parameters, filter your files, and much more.
Conclusion
XMedia Recode is a great tool to use if you want to convert media files into other formats and perform other tasks.
XMedia Recode features and benefits:
Convert Blu-ray / DVD
Convert audio / video
Drag-n-drop of video directly on the encoder
Subtitles import
Creating chapters
Tag editor
Auto crop (remove black borders)
Color correction (brightness, contrast, gamma, hue, saturation)
Select the picture size (1:1, 3:2, 4:3, 5:4, 5:6, 11:9,16:9, 16:10, 2.21:1)
Zoom (none, letterbox, the media, Pan Scan, Fit to Screen)