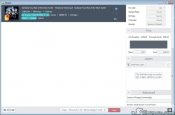 Adapter is a magnificent video converter, displaying a suitable environment for converting multiple file formats. Cropping videos and transforming image formats or even converting audio files from .wav to .mp3 has never been easier. Video exports settings are saving your time by figuring out the best features for your files by itself! So as to convert any media type, you can allow the program decide for you, if you're not certain of the format you need to convert to. Select the audio format or video type and then click convert.
From here, the program does all the work for you. On the other hand, the advanced settings provide even more options, that include multiple channels, video and audio encoder and all kind of rates meant to facilitate but also diversify your project. The Resolution Control takes care of the file quality, fitting it so that it would be compatible with the media. Moreover, Time Cropping helps cutting out unnecessary material or grabbing different parts, while accepting multiple formats for conversion.
This tool is so great that one can convert and import the created files to iTunes, iPhone or iPad, which means it fits all need and saves your precious time. Using this free multimedia files converter means caring about methodical results technology can provide.
Adapter features and benefits:
- capture images from video files
- support for .flv to .mp4, .flv to .mp4, .flv to .avi and .flv to .mov formats
- batch conversion
- create iPhone ringtones
- output filesize estimation