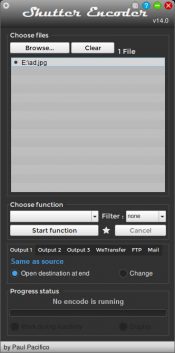 If you're someone who uses different multimedia file types constantly, then you know that editing and performing conversions on all files simultaneously can be a daunting task.
That's because you don't have a centralized software that will allow you to handle all those files, and Shutter Encoder addresses that issue in a specific manner.
It features a consistent set of tools that will make the app the go-to hub of your files. It can be used for various files and media formats, making it one of the most versatile tools.
It's an all-in-one media manipulation application that supports an extensive library of file types. You'll be able to perform edits on some of the most important and popular media formats.
Intuitive Interface Makes the Experience Easy
The modern and sleek interface is one of the first things you'll notice when you try this app out. At first glance, it might look somewhat minimalistic and basic, but when you use it for longer, you'll see it's very comprehensive and detailed.
You will find many features hidden nicely in the minimalist interface.
Shutter Encoder offers support for a huge library of different file types. These can range from images, videos, audio files, DVD tools, codecs, and other editing tools. And each of these subcategories will have additional features, making the user experience even better.
A Flexible and Customizable Experience
Every facet of this app is clearly and logically designed. With this app, you will have access to features like input, output, and tweak, which are present every step of the way. And you can do almost endless tweaking and customize with these files.
You can have your file edited and ready to go in just a few clicks.
Conclusion
Shutter Encoder enables you to perform conversions and edits on different media types, such as images, videos, audio files, and many other different types of files.