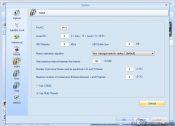 Format Factory is an application that will help you convert video, audio, and photo files to other formats. The tool also includes the option to rip DVDs and CDs, create  ISO files, and join them.
Working with various media files requires you to have programs that help you transform them from one media format to another. The problem is when you have incompatible files that won't go well due to formatting. The good news is that many programs will help you overcome this problem.
It helps you convert multimedia files to other formats, allowing you to use your files effectively.
It works on almost any Windows operating system and features support for a wide variety of formats, presenting itself as the go-to option for converting file formats.
Supports Different Types of Formats
With this application, one of the main things is that you can transform various formats. Versatility is the key to this type of program.
Luckily, Format Factory features wide support for almost any kind of format. You'll be able to transform audio and video formats such as MP3, AVI, 3GP, MKV, MOV, MMF, AMR, M4A, MP2, ICO, TIF, PCX, TGA, and many others.
Advanced Features and Easy Use
The app also has several other features aside from converting the formats of your files. It can also be used as a DVD and CD-ripping tool. You'll also be able to generate ISO files with Format Factory, which is extremely welcome when working with such files.
All of the program's capabilities are neatly organized on the menu on the left side of the tool.
You can join files in the same format, which helps make larger files.
Conclusion
Format Factory is an advanced tool for converting file formats and ensuring you can rip CDs and DVDs and create ISO files.
Format Factory features and benefits:
Converts all popular multimedia files ( video, audio, image )

Repairs damaged video

and audio files
Reducing multimedia file size
Picture converting options: zoom, rotate/flip, tags
Fast DVD ripper