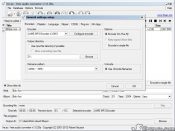 fre:ac is both an audio converter and an audio ripper. It can extract the audio tracks from a CD to uncompressed WAV format, which preserves sound quality.
The second feature of this tool comes into action, encoding the resulting ripped file into several formats, such as MP3, MP4/ M4A, WMA, OGG, FLAC, AAC, and others.
Users may also choose to convert any file already in one of the mentioned formats to whatever second format they want or need.
Supports Most Popular Formats
One of the main advantages of using fre:ac as a converter is that it supports most of the most popular file types for audio files.
It includes formats such as MP3, MP4, WMA, OGG, FLAC, AAC, WAV, and other formats – including those related to Bonk.
This versatile nature of the application makes it one of the most popular file converters in the world. Thanks to the widespread support for different audio file formats, you'll be able to convert almost any song or audio file to the desired file type.
The conversion will also be quick, especially compared to similar tools.
CD Ripping Function
If you have too many CDs lying around your home, you can use it to rip some of the CDs and get the files onto your computer.
This process is highly effective and quite fast as well, as you won't compromise on the quality of the files you rip while also providing a relatively quick process.
In addition to the ripping capability of this application, you'll also see that it features support for CDDB, a database where you can find information about audio files.
It means you'll be able to add information such as the artist's name and other types of information to your tracks for a complete experience.
Conclusion
fre:ac is a popular audio file converting tool that allows you to easily convert file formats and rip files from CDs to your computer.
fre:ac features and benefits:
Converts MP3, MP4/M4A, WMA, Ogg Vorbis, FLAC, AAC, WAV and Bonk formats
The CD ripper is integrated with CDDB/freedb title database support
Encoders are optimized for multi-core processors to improve conversion performance

Full Unicode support

Low learning curve for unexperienced users
Multilingual user interface available in 40 languages