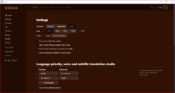 Zona is an application to provide you with some entertainment opportunities like movies, dramas, series, sports, and action. It allows you to stream videos based on the P2P protocol, which enables sharing between the individuals. Radio stations, movies, videos, sports, and games are some of the different fields that you can access through this application.
You can expect around 6000 movies, 300TV channels, and 5000 episodes of different TV series. Even 500 radio stations, online gaming, and live sports are always available for users.
You can easily browse different categories to find the content that is most suitable for you. The browsing process is not tiresome because of the simple interface. Additionally, the availability of filtering options to search the right content is also one of the reasons for the easy accessibility of this application.
Zona provides you access to all sorts of entertainment on a single platform. Therefore, you can choose your favorite, movie drama or sports channel to enjoy your time.