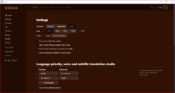 Zona is a streaming application that allows you to stream multimedia content to the screen of your desktop or laptop at home.
It is a highly popular streaming platform and application that will provide you with top-quality content that you can stream to your home computer.
It is made on a P2P basis, so you will enjoy fast streaming speeds and the ability to stream highly popular content such as movies, videos, songs, and other types of content.
Watch Content on Your PC
The best way to use Zona is to start streaming your preferred type of content right to your computer's screen.
The application has a tabbed interface where you'll be able to choose from a variety of streaming variants. You can select from content such as videos, movies, games, TV shows, Music, Radio, and much more.
The great thing about this application is its database of content. You'll find anything from movies to radio here, which is great if you prefer a varied database.
You'll also be able to easily find your type of content, thanks to the built-in search engine that makes it easy to search your favorite content.
Modern Layout
The Zona application is primarily known for its large library of content to stream to your computer. It can act as a launcher for up to 1400 different popular games, but it can also stream over 150 live TV channels, over a million hours of music, 550 radio stations, and other types of content.
In addition, the application's main interface is simple and not very complex for beginners to use. It has a very modern layout, so you won't be able to get stuck in the interface, searching for extended periods for your preferred types of content.
It's easy to use, and you find your content quickly.
Conclusion
Zona is a highly popular streaming service that lets you stream content to your computer's screen and enjoy it for free.