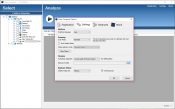 Video Comparer is a professional piece of software that will help you identify any duplicate pieces of video content on your hard drive.
It is useful if you're in doubt whether you already have some video files on your computer and if you want to maximize the space on your hard drive as much as possible.
Intuitive GUI and Easy Filtering
You can easily access all of the locations of your computer with the intuitive interface of this application. It allows you to apply some filters and locate the files you want, and scan the files and folders stored on your computer like a pro.
You can define your search down to the smallest details. There are three main scanning modes to start with: quick, standard, and full. The quick scan will perform the scan quickly, and the full scan will typically take longer, depending on the filters you choose for the scan.
It will also scan hidden folders and clear cache, and it will automatically select duplicates and delete them.
Then, you can apply several filters that will define which files get deleted to start with. You can select to remove only the lowest quality videos, or the shorter videos, or the longest videos, even.
There are also additional features, such as specifying your backup directory, selecting the image size, and activating the login process. You can also filter files by their type (3GP, AVI, ASF, ASX, WMV, VOB, XVID, MP4, MPEG).
Fast and Reliable Performance
Most of the tests and tasks we've done were carried out quite quickly, especially compared to other scanning tools of similar nature. Although the scanning speed will massively depend on how detailed a search you need and what filters you select for the search.
When the application has finished scanning, it will reveal the duplicate files during the search. It will also provide you with additional information about those files, such as their size, name, path, group, size, and image sequences.
From there, you can either opt to delete the files, move them to the Recycle bin, or move them to the backup folder you specified earlier.
And with the intuitive and relatively simple interface, everything is carried out easily. It has a fairly clean interface where you'll be able to access the preferred files immediately and select the folders you want to scan and files that need scanning, too.
Conclusion
Video Comparer can be an important utility application if you have many video files on your computer, and you're not sure which files are needed and which are not.
It will scan your computer thoroughly and tell you which files are duplicates and which are not, which will help you save a lot of space on your computer in the long run.