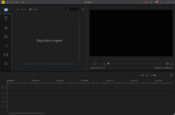 With BeeCut, you can create your videos from the footage you make with your phone by merging the videos and editing them so that you can publish them on your website or your social media accounts.
Videos are one of the most popular pieces of multimedia. They're great for showing thins and for instructional purposes, but they can also be a fun addition to your arsenal on social media. Many people struggle with creating phone footage and then merging it, which can be hard to do without the proper software.
For that, you can use BeeCut. It's an intuitive application designed to help both beginners and advanced users create unique and attractive videos only from the phone footage they have.
It has tons of different filters and templates that you can use, making your job extremely easy and automated when creating videos.
Sleek and Effective Editor
An app like this should have a powerful editor that will offer you some of the more advanced tools to merge videos seamlessly. That's what BeeCut can provide you with – a good toolbox of various features that will help you blend not only videos but also edit the videos you create to make them even better.
You can start with importing just one file from the browse interface, although you can always add more videos later on. It has different aspect ratios available, such as 16:9, 9:16, and 1:1, making it easy for you to choose between them.
What is more, you can add styles and creative masks, create custom footage, customize the audio and video, overlay, and manage filters.
Add Audio and Transitions
To make the video stick together, you can use many of the other features inside this application. For instance, it offers audio files and transitions that you can use to make the videos fit together nicely.
Conclusion
BeeCut is a powerful tool for merging videos and creating attractive entities by allowing you to use the editing tools inside and the many templates to make your job easy.