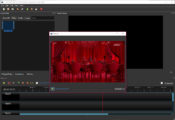 OpenShot Video Editor is an open-source program and a great solution for cutting together different video or audio files. From subtitling to creating effects, transitions, and more, we recommend this software for editors. There are numerous features to choose from.
You can even export your finished work to different formats. It includes YouTube, video game networks, DVDs, and more. Here's what you should know about it:
Notable Features
First, it's always helpful to have a video editing software that you can use regardless of your operating system. You can do almost anything you would imagine needing to do when editing a video. Find that great moment and slice up your video to showcase it.
Fade, bounce, and give movement with as many layers as you want. Add tracks endlessly. You can even play with the color settings, removing certain chromas or inverting them, changing the brightness, and more.
Audio Included
One of the things that impressed our testers the most was the ability to edit waveforms. Turning audio into this format makes it intuitive to edit quickly.
Additional Features
Sometimes, you need to add 3D features to bring your project to life. That's why we loved the ability to add lens flares, titles, and even animated text.
Plus, if you want to slow down different clips or slides, it's achievable in just a few steps with the right buttons.
Multilingual
No matter what language you speak, you are likely to be able to use the software in that language.
Over 70 supported languages make it quite easy to achieve this.
Conclusion
OpenShot Video Editor is an excellent choice for most of us looking for free video editing software solutions.