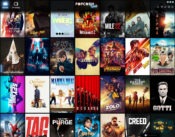 With Popcorn Time, you'll be able to watch movies that you can stream via torrent files as it will act as a media player for a huge library of videos and movies, including all the latest movies.
If you love watching movies, you know that it's nice to have a platform to have all the movies without downloading them. Streaming platforms are becoming increasingly popular, like Netflix and Amazon Prime, although those are payable services that prompt you to pay a monthly fee for the content.
If you want a free solution and alternative, then you can use this application. It will provide you with a large library of movies that you'll be able to stream peer-to-peer to your device.
It also acts as a media player, as it allows you to watch the videos and unwind from the stress of the day. You may use subtitles and some other features to enhance the experience, too.
Stream Movies via Torrents to Your PC
The way Popcorn Time works is that it will stream movies to your device via connecting to the peers on the other side of the connection, offering you the ability to stream them to your PC. It provides you a simple interface that even beginners will be able to enjoy.
You'll be able to pick what movies you'll watch from the large library of movies that will pop up in the main window. You may sort them by categories, too. You'll be able to explore all of the movies that are available inside, allowing you to pick what movies you'll watch – including some of the latest movies, even.
Use Subtitles
You can also download subtitles and enjoy the experience even more. You can pick the language from the interface, or you may also insert an SRT file that you can download from the internet.
Conclusion
Watch your favorite movies with Popcorn Time, a streaming platform that streams movies from torrents.