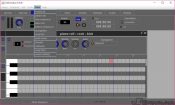 Are you looking for the best drum machine software? Do you compose music and need a free program that you can use to unleash your creativity? If this is the case, then orDrumbox may be just the tool you need. It allows creativity and helps you compose music with many useful 'and quite interesting' features.
This amazing sound tracker can easily compose audio tracks and beats. It is not difficult to learn and has an audio sequencer that allows you to program the drums based on a pattern.
The program is designed to make it easy for you to create music by assembling patterns. You can have between 1 and 24 bars in each pattern, enabling polyrhythm capabilities.
You can use the automatic composition feature to create patterns using semi-random notes. You can then use the patterns you like to compose longer tracks. The program does not hinder your creativity, so you can always adjust everything in the patterns. You can import and export drum kits. These are similar to a sound library. In other words, you can create sound files in other programs and use them inside this software to compose music. The files must be in WAV format.
The Soft Synth feature can create sounds using analog synth emulation. Hi-pass and low-pass filters are also included, as well as FM modulation and VCO generators. You can export your songs or individual patterns in CD quality (16 bits, 44 kHz). You can then use these exports in any other music software.
Do you need to import or export MIDI files? No problem! The program comes with a built-in MIDI importer and exporter. MIDI messages can be sent to any device connected to your machine. In addition, the software can receive MIDI signals as well. OrDrumbox is one of the best drum machine software on the market today, better than Hydrogen and Cubix, in our opinion.
The user interface is clean and neatly organized, so learning it should not be challenging. It also comes with an audio mixer that can change the pitch, PANO, and volume, among other things.
During testing, the program was stable and performed its job marvelously.