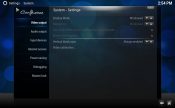 Kodi is a powerful and intuitive media center app that lets you control media files across multiple devices. It comes with a slick and modern design that offers a lot of flexibility to its users.
Nowadays, media technology is at the cusp of becoming an all-encompassing experience wrapping around different devices to create a wholesome experience. Today, it's all about customizing the experience across various devices so we can watch our favorite media files on the go.
Kodi (formerly XBMC) is an app that will help you set up connections, organize multimedia libraries, and help you enjoy your favorite media files, music, videos, and images in one place.
Modern and Sleek Interface
The first thing we notice when we use this media center is its modern interface. When we start it, it will launch in fullscreen mode, where we can immediately see the app's list of features. At first, you will use the default theme, but you can change it any time you want in the settings area.
It has large and clear buttons, which is crucial if you want to use mobile devices or other touch devices. You will have quick access to all multimedia options on the home screen.
Or, you can go through a dedicated and more detailed location by tweaking dedicated settings.
Configure Your Media Library
You can access many playbacks and other tools to help you manage your files. If you're listening to tunes or watching images, you'll only be able to view one type of file, though.
It has several media-enhancing features that make the media more enjoyable. For video files, you have 3D stereoscopic features. Picture slideshows have unique transition effects, too.
You can always get add-ons that will help you create a unique and even more unforgettable experience.
Conclusion
Kodi is a multimedia center app where you can see, view, and manage your media files across various devices. It has many different settings that make the app intuitive and easy to use.