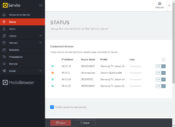 Serviio lets you stream videos, photos, music, and image files on DLNA compliant devices such as game consoles, televisions, Blu-Ray players, and smartphones on a home network. It functions as a media server and helps to integrate your PC to other devices.
To be able to install it, you will need Java installed on your computer. To make it work after the installation, you need to open the software and start the UPnP/DLNA server. With this, the application will scan for compatible devices in its surroundings and presents you with a list.
You can choose one of the list devices to be your target device where you want to stream a multimedia file. You can customize the settings based on the device you have selected to optimize the playback.
Further, you need to specify the source by choosing the folders where the multimedia files are stored and want to share. You can also select online sources to be indirectly streamed to the device of your choice.
It can be done by specifying the type and source URL. The type can be Live Stream, Web Resource, or RSS/Atom Feed. So if you have a Wi-Fi connection at home and only your computer could access it, you can stream it on a big screen.
Also, if the computer is currently in use by other family members, it can be used for streaming in parallel. The software can extract metadata to provide subtitles and descriptions as well, which is very cool. If you add or delete data to a folder linked to Serviio, it automatically updates the files, and this doesn't need a manual refresh. It records video thumbnails and projects it on the screen you have selected, which helps manage, select, and play files on the other device.
So it is excellent for enhancing your multimedia experience. It can help you route multimedia files from your portable laptop or computer with limited visual and audio capabilities to a better device with ultra-high-definition visuals and sound.
The basic version of Serviio is available for download for free. However, if you need all the functions, you have to opt for a paid license. The Pro edition of this software is available for a free trial for 14 days.
The free version can lower the bit rate of a video or audio file to match the internet connection speed available at your home for continuous data transfer.
Serviio features and benefits:
Supports all common playlist types
Streams video, audio and image files in their native format
Streams RSS feeds, web page content and live audio or video streams
Supports import and streaming of subtitles
Provides a

wide range of options

for local library browsing
Supports automatic IP profile assignment and renderer detection
Video thumbnails, DVD posters, CD covers are supported