Universal Media Server 8.2.0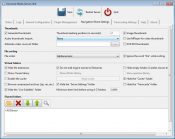 Universal Media Server runs on a DLNA compliant UPnP engine. It is compatible with a wide variety of media devices, from Apple iPhone and Samsung televisions to Sony Blu-Ray players and Xbox 360. Little to none configuration is needed to make use of this media server. It supports a wide list of media formats, being powered by MEncoder, FFmpeg, MediaInfo, AviSynth and tsMuxeR. The Plug-in Management page gives access to more channels, Google music, GrooveShark, and IMDB info.
To add other plug-ins, you need to download .jar files and copy them into the plug-ins directory. Last.fm integration, a shutdown feature, subsonic browsing, MythTV and plenty other features can be added with this plug-ins.
Universal Media Server features and benefits:
Supports the following devices:
AC Ryan PlayOn!HD
Apple iPhone
Asus O!Play
Brite-view CinemaTube
DirecTV HR
Freebox HD
LG Smart TV Upgrader
LG TVs
Nokia N900
Panasonic TVs
Philips Net TV
Philips Streamium
Popcorn Hour
Samsung TVs
Sharp TVs
Sony TVs
Sony PlayStation 3
Vizio Smart TVs
XBMC Media Center
Yamaha A/V receivers
Apple iPad
Apple iPod
Boxee
D-Link DSM
Freecom MusicPal
Google Android
Microsoft Xbox 360
OPPO Blu-ray players
Philips Aurea
Philips PFL
Pioneer Kuro
Realtek media players
Samsung smart phones
Showtime
Sony Blu-ray players
Sony A/V receivers
Sony Network Media Players
Western Digital WD TV Live
Xtreamer