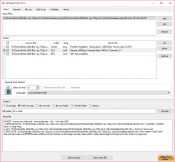 tsMuxeR, or Transport Stream muxer, is a helpful app for muxing streams and videos, as it is effective for almost any stream type.
Muxing is a process that helps you blend several aspects of videos – including video, audio, subtitles, tracks, and other types of media. Its purpose is to create a single file that combines all those aspects and creates an immersive experience for you to enjoy.
But to do that, you'll need a good muxing tool to help you with the process. And if you're looking for a proper muxing tool, tsMuxeR can provide you with some powerful muxing tools.
It will help you mux almost any stream or video, from simple clips to more advanced streams and video files.
Select Source Files and Destination to Get Started
The first step of using this application will be choosing the source files you want to work with. Then, you will also need to specify the final destination of the mux, and you'll also have the option to change the file's properties, such as size, quality, and several others.
The interface of this app should be familiar to those who have done similar tasks in the past. When you're working with your video files, you can choose which functions you want to do with the files.
You can join, split, cut, and perform other functions with your chosen source videos.
Advanced Functions for Muxing
This application lets you perform basic and more advanced muxing tasks with your videos. For instance, you can handle adding subtitles and audio to your videos.
Alternatively, you can change the subtitles and the fonts in use if you want to do that.
When it comes to managing audio and other properties, you'll have a lot of useful features, too. You can easily extract DTS and AC3 cores from True HD and DTS-HD, which is a helpful feature.
You can also manage and minimize audio delay for several different audio sources.
Conclusion
So, if you want to dive into the video editing world, tsMuxeR is the right choice.