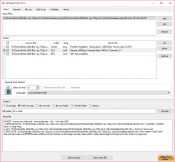 Since tsMuxeR includes a straightforward user interface, you will discover your way around the application fast enough. Moreover, it may be used to join, split, or cut source files based on the segment you need to process.
The latest version of tsMuxeR is free and isn't quite challenging to handle, even for inexperienced users.
Locate the video file you wish to convert and click Open. Almost everything is going to be done for you by the application.
As soon as your video is completed, you may use tsMuxer to obtain a simple AVCHD disc structure. With it, you can create a video, prepare the essential files for an AVCHD disc, and burn them to a disc that can play on nearly every Blu-ray player.
The video or audio stays untouched, so the quality isn't impacted, and the approach is extremely fast. Re-encoding the sound isn't an optimal choice, but if this is the sole method that is right for you, it might not be a deal-breaker. This kind of audio is also referred to as AC-3 or Dolby Digital and is among the audio codecs utilized in DVD-Video content.
So if you want to dive into the video editing world, tsMuxeR is the right choice.