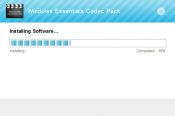 Windows Essentials Codec Pack covers most of the codecs, filters, splitters, and related tools needed to play videos and music. 99% of all movies, music, and flash files are guaranteed to work with this codec pack. Filters further enhance the video and audio quality. And you will be sure not to miss any new releases, as updates work automatically.
Whereas not affiliated with Microsoft, it still provides reliability and security, as it is a spyware/adware/virus free Open Source software that works alongside other codecs with no known conflicts.
The latest version comes with DTS-HD and Dolby TrueHD bit-streaming support, integrated into Media Player Classic, a player also included in this package.
Windows Essentials Codec Pack features and benefits:
various compression methods
all common encoding modes: constant bitrate, fixed quantizer, fixed quality, two pass encoding (depends on compressor features) for libavcodec and XviD detailed selection of motion estimation method
minimum and maximum I frames interval, quantizer selection, quantizer type and trellis quantization selection for libavcodec

adaptive quantization (aka. masking) for libavcodec and XviD, single coefficient elimination
selectable compression of starting and ending credits
two curve compression algorithms for second pass of two pass encoding - thanks to XviD developers
second pass simulation: although not very precise, still helpful for tweaking advanced curve compression parameters
ability to use libavcodec internal two pass code
image preprocessing with ffdshow image filters (latest ffdshow version must be installed)

graph during encoding: if your encoding program doesn't provide one
B frames support: from one to eight consecutive B frames

support for MPEG 4 quarterpel and GMC
selectable interlaced encoding